Posted by by Ron Starner on June 23, 2016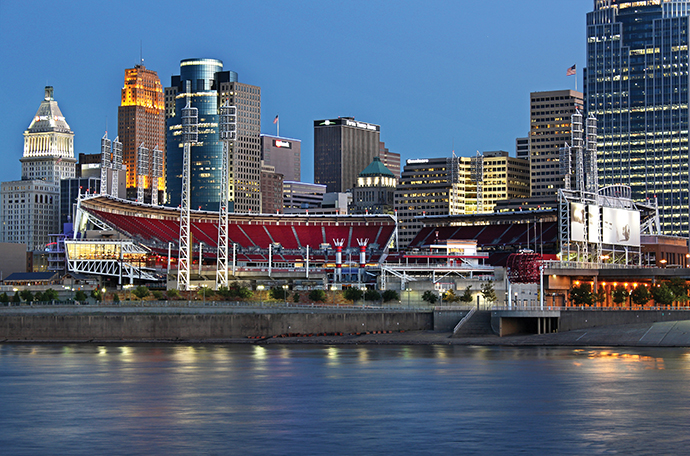 The skyline of Cincinnati from across the Ohio River in Kentucky. [
Photo courtesy of REDI Cincinnati]
Google the route through Ohio from Cincinnati to Wooster to Columbus to Findlay to Toledo, and you'll find that it takes about 50 turns, 460 miles and some nine hours of driving.
I know, because I made this trip the week of March 6-12 to conduct a series of interviews and other meetings for Site Selection magazine and its publisher, Conway Inc.
When I set out on this road trip, I thought I'd learn more about the site selection factors that led companies to announce 517 expansion projects in Ohio last year, second only to Texas. What I discovered, however, was that Ohio companies aren't just growing; they're changing the world of commerce and how we as consumers interact with it.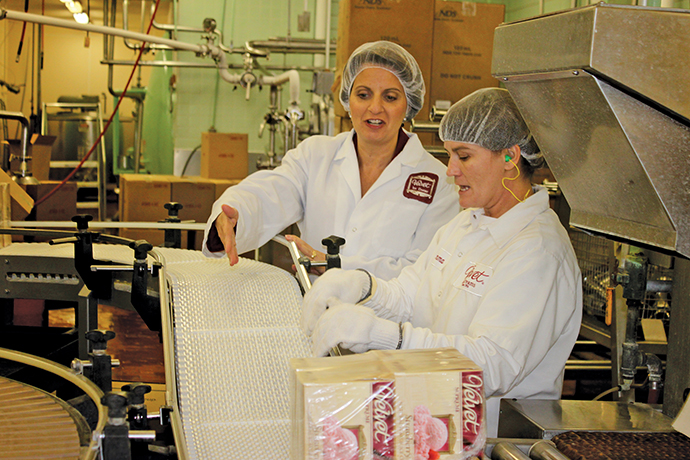 Luconda Dager is a fourth-generation owner and president of Velvet Ice Cream, which has been making the frozen tasty treat in the small town of Utica, Ohio, for 102 years. The company recently broke ground on a $3-million expansion.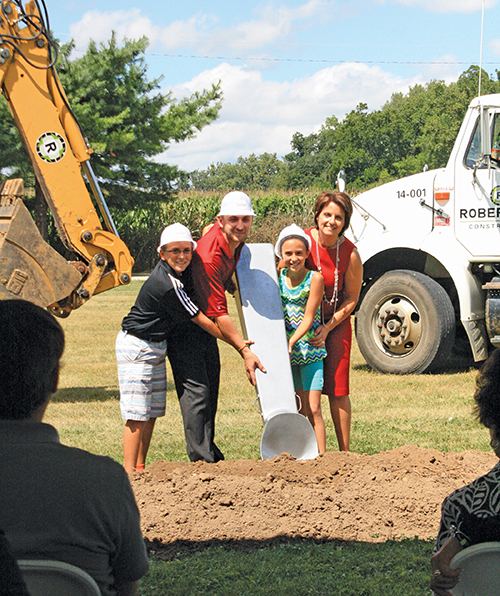 Photos courtesy of Velvet Ice Cream
From the creators of Tom + Chee in Cincinnati to the Charles Schwab worker who invented Craigslist after graduating from Case Western Reserve University in Cleveland, Ohioans are leaving an indelible mark on every aspect of the consumer goods supply chain.
Take a bite out of the Krispy Kreme grilled cheese donut at Tom + Chee and you'll see why. It's insanely good, and we have two guys in Cincinnati to thank for it.
Founders Trew Quackenbush and Corey Ward began serving grilled cheese sandwiches to construction workers under a tiny tent in Fountain Square in downtown Cincy. Exposure and an investment deal on ABC's "Shark Tank" TV show gave them their big break, and in 2013 the Brand Innovators Made in America Summit named Tom + Chee one of 25 "Brands to Watch."

"We feel that if we can get consumers to the plant and see the extra steps we take, there will be an emotional connection between them and the brand. It is not so much about price anymore. It is about the passion for the product."
— Luconda Dager, President of Velvet Ice Cream in Utica, Ohio
Twenty years earlier, Craig Newmark put his Case Western Reserve education to good use while toiling at Charles Schwab in San Francisco. The former Clevelander created Craigslist while the Internet was still an infant, and ushered America into the era of e-commerce.
Is that what it means to be an Ohioan, or is it something more?
The Urban Dictionary defines an "Ohioan" as someone who:
Knows all four seasons by heart: Winter, Still Winter, Almost Winter and Construction.
Lives less than 30 miles from some college or university.
Knows what a buckeye really is.
Knows if other Ohioans are from southern or northern Ohio as soon as they open their mouths.
Can spell the words Cuyahoga, Olentangy, Bellefontaine, Tuscarawas and Wapakoneta, and knows to double the "n" in Cincinnati.
Has ever had to switch from "heat" to "A/C" in the same day.
Knows what "pop" is.
For one week in March, I crisscrossed the Buckeye State in search of what it means to be an Ohioan. I thought that if I just spent enough time in the state, I might learn why so many corporate investors keep coming back.
What I gleaned was a lot more. From the big cities of Cleveland, Cincinnati and Columbus to the small towns of Findlay, Wooster and Utica, I saw evidence of the same kind of ingenuity that built Tom + Chee and Craigslist into category-killers.
In this quest and the follow-up interviews I conducted in the month following the road trip, I saw signs of how Ohioans are taking the state's rich legacy of agriculture and manufacturing and remaking it into new forms of commerce.
Read Full Story...worth the read!
by Ron Starner
Executive Vice President of Conway, Inc.
Ron Starner is Executive Vice President of Conway Inc. He has been with Conway for 16 years and serves as editor of the TrustBelt Report and lead organizer of the annual TrustBelt Conference. He also writes extensively for Site Selection and Conway's Custom Content Publishing Division. His Twitter handle is@RonStarner.